Hillary Clinton offers admission to ease obstacles towards reaching agreement at climate change summit in Copenhagen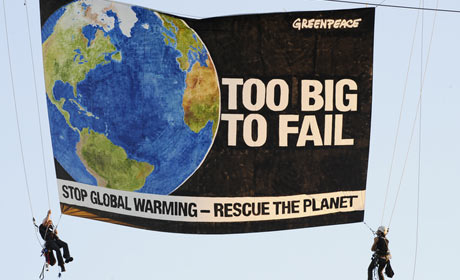 The Obama administration issued a mea culpa on America's role in causing climate change yesterday in a move to get the major world economies working together on a global warming treaty.
The admission was offered by Hillary Clinton at the start of a two-day meeting of the world's biggest polluters intended to ease some of the biggest obstacles towards reaching a deal at UN talks in Copenhagen in December.
Clinton placed the gathering of officials from 17 countries, the European Union and the United Nations on a par with the G20 meeting that tackled the economic crisis in London earlier this month.
As the secretary of state opened the meeting, Greenpeace USA's new executive director, was arrested in his first day in the job. He and six other climbers unfurled a massive banner from a construction crane near the state department with a message for environment ministers from the world's largest economies: "Stop Global Warming. Rescue the Planet." Radford called for the industrialised world to commit to deeper cuts in emissions and provide financial and technical assistance to developing countries.
Clinton directly addressed the complaints of developing countries such as India and China, that America and the European Union, by demanding binding emissions cuts, want to saddle them with the burden of dealing with climate change. They argue they did not cause the problem and must prioritise economic growth.
Clinton said America recognised industrialised countries bore a major responsibility for the greenhouse gas pollution that had led to climate change: "Some countries like mine are responsible for past emissions."
She added that she wanted China and India to grow their economies: "We want people to have a higher standard of living."
She said Obama had broken with eight years of denial under George Bush and was determined to act on climate change. "The United States is fully engaged and ready to lead and determined to make up for lost time both at home and abroad," she said. "The United States is no longer absent without leave."
She said she saw climate change as the gravest problem facing the international community. "No issue we face today has broader long term consequences or greater potential to alter the world for future generations," she asserted. "The facts on the ground are outstripping the worst case scenario models."
Diplomats see yesterday's gathering of officials from Australia, Brazil, Canada, China, the European Commission, France, Germany, India, Indonesia, Italy, Japan, Korea, Mexico, Russia, South Africa, United Kingdom, the United States, Denmark and the United Nations as an important way station on the road to Copenhagen.
The two-day meeting – one of three major gatherings before next December – is not expected to produce definitive agreements. But diplomats said they hoped to get a clearer idea of how the various countries were prepared to act on climate change. There was also hope of establishing a range for future negotiations on financial aid and technological assistance to developing countries which will bear the brunt of global warming.
In almost 100 days in office, Obama has worked hard to persuade the international community that his administration wants to play a leadership role on climate change. Clinton emphasised that progress yesterday, noting presidential directives issued by Obama and recent rulings from the Environmental Protection Agency on regulating carbon dioxide as a pollutant.
However, Obama officials are still acutely conscious they need to win over Republicans and fellow Democrats as Congress considers proposals for a cap and trade system of emissions reductions. They must also recruit an American public that has devoted less attention to climate change as the economic recession deepened.